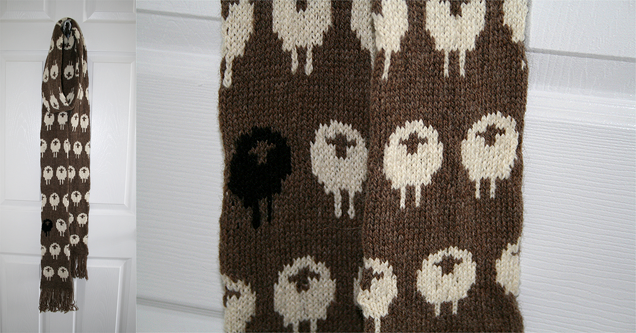 About:
This scarf was loosely inspired by a scarf from Chloe. After trying to recreate the Chloe pattern and failing miserably, I decided to make up my own pattern instead. The scarf is knit in the round, blocked flat, and the fringe is added on to close up the tube.
Finished Measurements:
97" x 4.5" (flattened) - Mine came out VERY long, so adjust accordingly if you want a shorter scarf.
Make it longer or shorter by adjusting the number of chart repeats. Make it wider by adding in more sheep repeats or adjusting the number of stitches between each sheep.
Materials:
- 1 set of 5 double pointed needles in size US 6
- 4 hanks Cascade Yarns 220 Sport in Walnut Heather (A)
- 2 hanks Cascade Yarns 220 Sport in Natural (B)
- 1 hank Cascade Yarns 220 Sport in Black (C) *Optional, for adding in black sheep where desired*
All yarns listed are 164 yards per hank, sport weight
- Stitch marker
- Tapestry needle
- Small crochet hook
- Something to wrap yarn around for fringe (see video)
- Scissors
Gauge:
Stockinette stitch in the round, after blocking.
27 sts x 28 rows = 4 in x 4 in
This is a bit of a rough estimate, I knit rather tightly when doing stranded work on DPNS, so I highly recommended testing the chart in the round first to see what will work best for you.
Notes:
- I would recommend using a blockable fiber for this project. I intended for this scarf to be blocked flat and look like a two sided flat scarf (similar to double knitting) instead of being a tube scarf. I always have terrible luck with double knitting, but there's no reason it can't be double knit.
- When carrying yarn across, be sure not to twist in the same places on each row.
- I only added in two black sheep, each in the same row of sheep, so that there would be one on each side of the scarf.
- The black sheep are added in the same way the white sheep are done, just carry the black yarn all the way around with the white yarn. Duplicate stitch would also work if you're so inclined.
Chart One: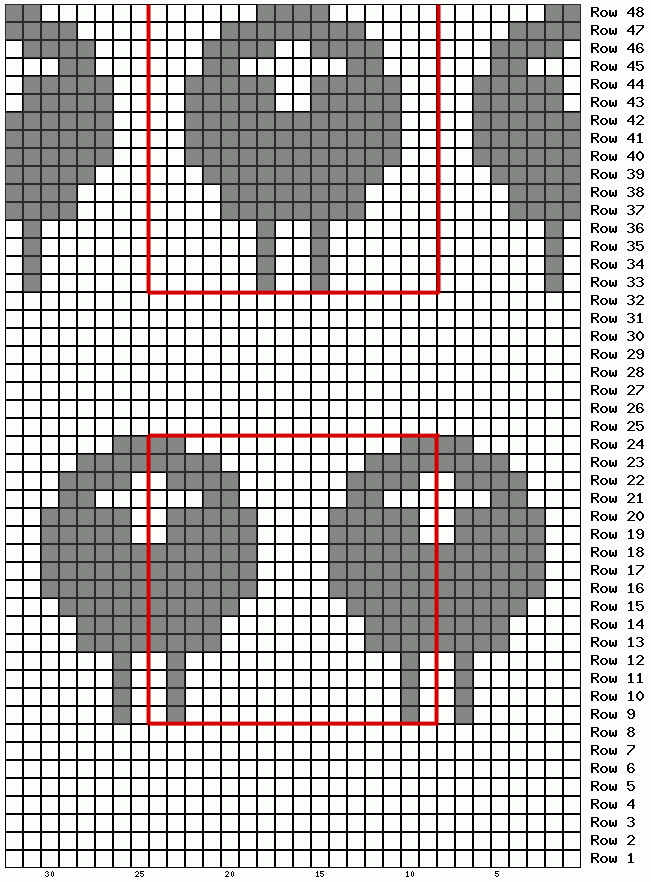 Chart Two: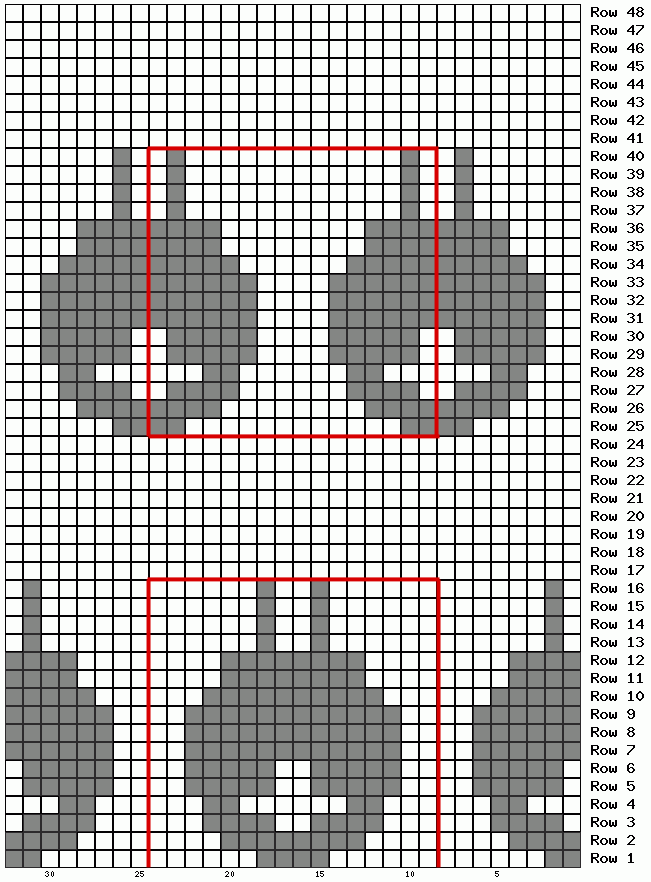 Want to change the width?:
- The directions below are for my scarf dimensions. If you want to make the scarf wider, you need to cast on a multiple of 16 stitches, making sure that your multiple will amount in an even number of sheep. An odd number of sheep going around will result in weird placement when blocked.
Scarf Pattern:
- Cast on 64 stitches in color A, putting 16 stitches on each needle, and join in the round. Place a stitch marker on the first needle to mark the beginning of the row. You'll be knitting 3 repeats of the sheep pattern.
- Begin knitting chart one (sheep in color B or C) and continue until your scarf is half your desired length. Be sure to end on row 24 or row 48.
- Switch to chart two for the second half of the scarf. If you ended on row 24 on chart one, start with row 41 on chart two. If you ended with row 48 on chart one, start with row 17 on chart two.
- Knit equal sheep patterns on each side of the scarf. My scarf has 26 rows of finished sheep total, 13 in one direction and 13 in the other.
- When you're finished knitting your last row of sheep, end with row 24 or row 48.
- Bind-off.
Finishing:
- Weave in ends using the tapestry needle.
- Block the scarf flat. The sheep should align up exactly like on the charts if you followed the pattern.
- An easy way to block may be to run a string through the tube on both sides and then pin the ends of the string taut to get a more even edge. I pinned mine down the edges and it came out a little bumpy.
- Now it's time to add the fringe (color A). Here is the video that I used to make my fringe. I only did one strand of yarn instead of the three strands shown in the video. To close the tube, I went through both sides of the scarf.
If you have any questions or concerns, feel free to contact me here on LJ (
metalheavy
) or at ravelry (metalheavy).